Jim Stack Stays Bearish But Spies Opportunity
Our CEO and Founder, Jim Stack, was once again featured on Barron's Advisor – The Way Forward podcast.  The Way Forward provides insights from an elite group of top advisors and industry standouts on managing wealth, leading through crisis, and planning for the future.
We invite you to listen as they discuss Jim's historical perspective on interest rates and the Fed's current predicament, as well as how the housing market will likely determine the path of a U.S. recession.  Their conversation also covers SFM's outlook –including sectors and stocks for the current environment– along with sage advice for investing through this bear market while looking forward to the opportunity that ultimately lies ahead.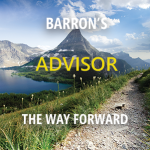 Please read important disclosures here.
© 2022 Dow Jones & Company, Inc. All rights reserved.